Former Guns N' Roses drummer Steven Adler rejoined the iconic band on stage for one song last night at the Estadio River Plate in Buenos Aires, Argentina.
Adler had previously made history and headlines around the world when he first rejoined Guns N' Roses on stage back on July 6, 2016 for live renditions of "Out Ta Get Me" and "My Michelle" at the Paul Brown Stadium in Cincinnati, Ohio, USA.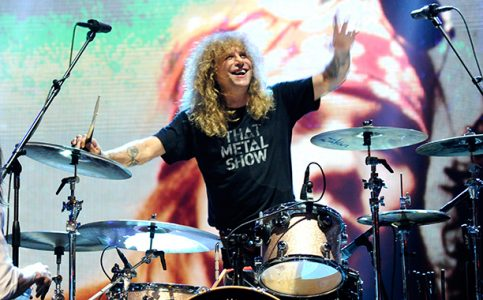 Steven Adler Guns N' Roses' setlist at their show in Buenos Aires, Argentina is virtually the same as the one played at their concert in Toronto, Ontario, Canada back on July 16, 2016 and where Sleaze Roxx stated in its concert review: "So what went wrong you may ask? In a nutshell, the setlist that was played simply killed the band's momentum over and over again throughout the evening. It started with the third song "Chinese Democracy." While it certainly is impressive that Axl was able to convince Slash and Duff to play not one, not two, not three, but four songs off Chinese Democracy, the reality is that that album is very weak steven-adler-photo-2compared to the other Guns N' Roses studio albums of original songs. In addition, the songs off Chinese Democracy are not what put Guns N' Roses on the map so to speak. Rather, it is an album released well after the band's peak and playing any songs from that album is pure self-indulgence because any track from Appetite For Destruction and G N' R Lies, and almost any song from Use Your Illusion I or II is better than the songs on Chinese Democracy….
What Guns N' Roses should have been able to do — and certainly what I had seen at my last Steel Panther show — was to only deliver stellar songs that people know and love. Instead, what Guns N' Roses did was self-indulge playing songs that just about no one wants to hear. I am thinking in particular of "Attitude," "This I Love" and "Sorry." What Guns N' Roses did was charge everyone an arm and a leg for tickets without playing all of the songs that people most likely wanted to hear. Songs that were omitted that would have been amazing to hear live include "My Michelle," "Used To Love Her," "14 Years," "Yesterdays," "Dust N' Bones" and anything from the Live ?!*@ Like A Suicide EP. What Guns N' Roses did was play four songs from their disappointing album Chinese Democracy. What Guns N' Roses did was self-indulge in long jams, solos and snippets of songs from other artists…."